The busy light is a universal online indicator to alert others when you are on a call by a red light that pulsates. Whenever you or your caller speak, the light will pulsate; when there is dead air the light will be off. The light is activated by sounds such as voice, breath, loud noise, or even telephone line noise.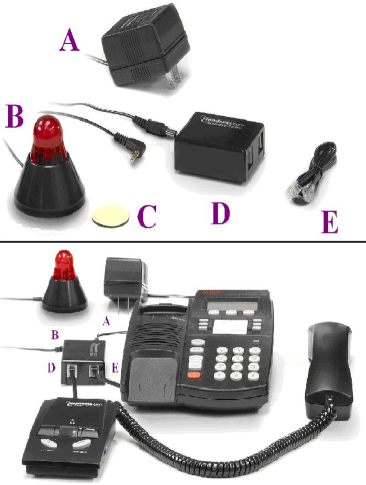 Contents in the box:
(A) DC Power Adapter
(B) Busy Light
(C) 2-sided adhesive for Busy Light
(D) Executive 2 Splitter Box
(E) 18" Black RJ9 Telephone Cord
Compatibility:
The busy light works with most systems due to the basic RJ9 connection on the connector box (pictured below). This includes anything from the Executive Pro, GN Netcom, and Plantronics including Polaris headsets.
NOTE- Busy Light is not compatible with certain EHS hook switch setups like CISCO
Basic setup for a headset system and phone: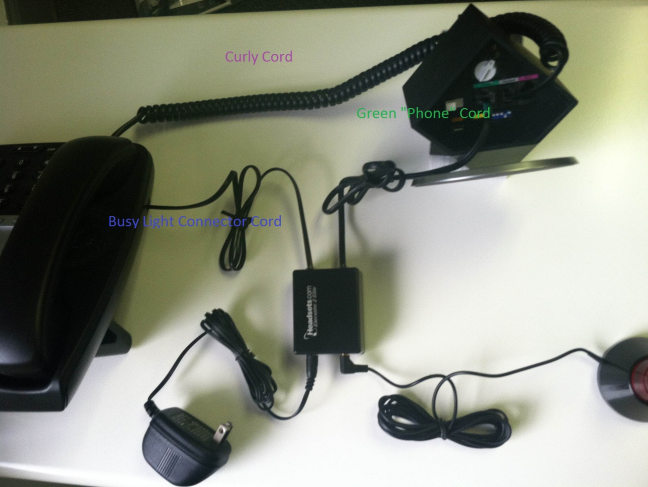 (This applies to corded, wireless w/ lifter, wireless w/ EHS & wireless)
Step 1: On the front of the Executive 2 Splitter (D) locate the two phone jacks (RJ9). Plug one end of the black telephone cord (E) into the jack on the box, and plug the other end into the handset or headset jack on the telephone base
Step 2: Plug the connector cord that would normally connect the headset to the telephone from the headset base (RJ9) into the remaining jack on the Executive 2 Splitter Box (D)
Step 3: Plug the Busy Light (B) into the jack labeled "Lamp" on the back of the Executive 2 Splitter Box (D)
Step 4: Plug the DC Power Adapter (A) into the jack label 6VDC on the back of the Executive 2 Splitter (D) and the other end into the wall outlet
Time for a new headset?
Many Busy Light Customers have started using the Leitner LH270!