The headset probably has a short in it.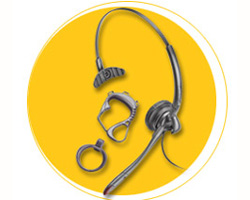 (PS: The following instructions work pretty well for the CT14, but you may not get the same lights in the headset)
Gently move and wiggle cord, listen to see if headset cuts in and out.
For the CT12, check to see if the firefly light at the tip of the microphone is flashing when remote is turned on. If not, the headset is dead and needs replacing.
If user has another headset with a 2.5mm plug, try it on the CT11/ CT12 / CT14 Remote.
If the other headset works fine then replace the crackling headset. If the other headset is also not working, it's time for a new CT12!
For CT12 [DISCONTINUED]
Catalog number 9125
Product code is PTR/CT12/HDS
The CT11 Replacement Mic has been discontinued
*Please note: Leinter headsets + 2.5mm cords do NOT work with the CT11, CT12, or CT14!*