Here's all you need to know about Tech Mode for the Sennheiser Updater:
DON'T USE IT
Instead, have them Download and install EPOS Connect
• When the EPOS Connect is being a pain and not downloading from the server, or microphone not showing current firmware version
• When the base is glitching in and out when the headset is on it, thus keeping it from properly connecting to the Sennheiser Updater.
• If you're ever curious about what version of firmware the headset and base are on, as the Updater is unclear whether it's delaying the headset or the base's firmware version n the main screen.
WHERE do you find this?
• In the EPOS Connect, you go to Options ---> Update Mode---> Update from file.
(See Photo 1 at bottom)
HOW do you update someone in Technical Mode?
• First, make sure your Customer has the 2 Sennheiser files needed for the update from you.
• Also make sure that they've saved them to the SAME folder somewhere they can find, like their desktop. (Don't have the files, ask PS Primary!)
• Once you're in the Update From File Screen, select what you want to update, headset, base, or both by checking the browse box next to it.
• Then, click on "Desktop" (if that is where they saved it), then find the files that were just sent over
Note: If you do not see an installed firmware version on the microphone, update it first, as it will disappear after the base is updated. The mic firmware file will have "20MHz" somewhere in the file name.
• Select the file you want to update, then hit "OK" (or whatever affirmative action button is listed), then hit "Update" in the Update from File screen.
Note: You can update them both at the same time, or do one a at a time, but I suggest one at a time, microphone first.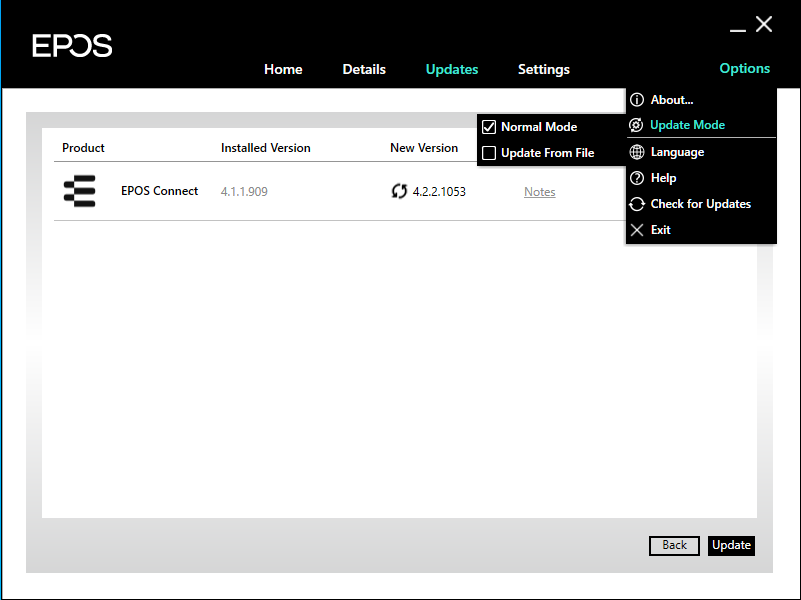 Boom! You've just launched the EPOS Connect in Update from File mode. Congratulations!