The base itself is what makes the Bluetooth connection to your Bluetooth device.
You must keep your Bluetooth device (cellphone, laptop, etc) within 33 feet of the base unit, but you can roam up to 300 feet with the headset.
Bluetooth pairing:
It has been confirmed: the headset can be either in the charging base or not, and the Bluetooth pairing should work.
- Turn on Bluetooth in cell phone or a different Bluetooth device
- Press and hold down the Bluetooth pairing button on Savi W740 base (see photo) until the button begins flashing red/blue (about 3-5 seconds).
-Once flashing, search for the headset via your Bluetooth device. Once found, (Savi 7xx) select it and attempt to pair
-If prompted for a passkey, enter 0000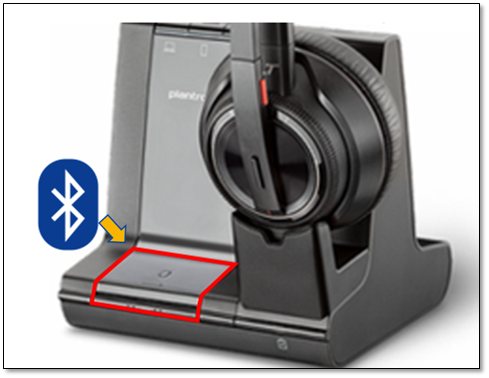 Auto-connect
The Savi will automatically connect via Bluetooth once your device is in range.
To turn this feature off:
-The base and the device must be actively connected (Bluetooth light is illuminated)
-Tap the Bluetooth button once, the light will go out
Once this is done, the base will only connect to the device if you manually do so. You can do this either from your device or by tapping the Bluetooth button again (which will re-activate the auto-connect feature)
You can also change the auto-connect feature using the Plantronics Control Panel by going to Start > Programs > Plantronics > Plantronics Control Panel > Device Settings > BaseStart > Programs > Plantronics > Plantronics Control Panel > Device Settings > Base > Auto Connect to Mobile Phone
Time for a new headset?
Many Plantronics Bluetooth Customers have made the switch to the Leitner LH370!
Prefer your headset to be clipped to your ear? The Leitner LH380 will work great for you!