How to Set Up a Marathon with a Office Phone! - (Marathon Discontinued)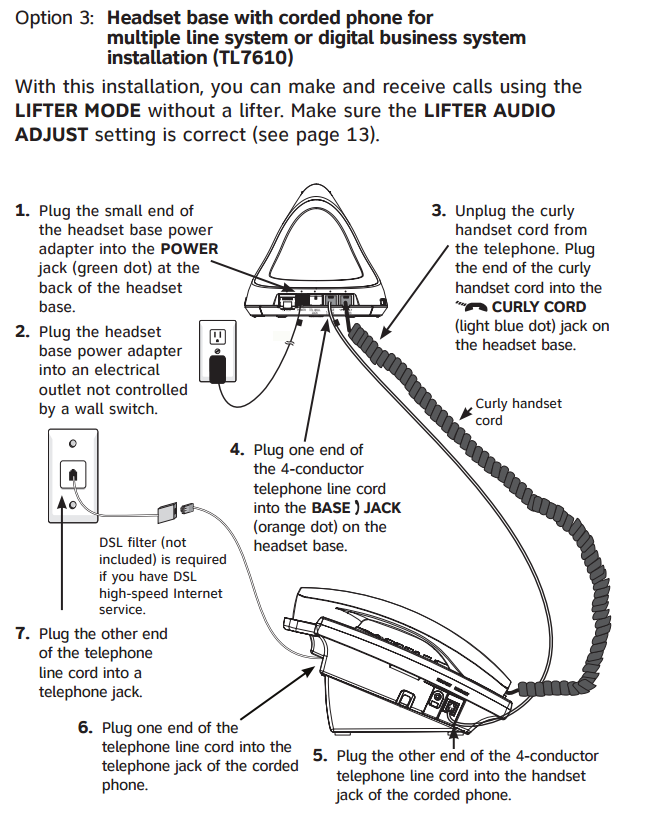 Step 1) Remove the cover from the back of the Marathon Base.
Step 2) Have the Customer find the POWER CABLE for Marathon and plug it into the back of the base where it says POWER (green dot jack).
Step 3) Put the CURLY CORD - which is attached to the telephone handset - into the base where it says CURLY CORD JACK (light blue dot jack).
Step 4) Plug the headset's BASE JACK CORD (ORANGE ended connector cord) into the base where it says BASE JACK (orange dot jack) and plug the other end into one side of the HANDSET JACK of the telephone. *Note-- Marathon headsets are not designed to work in HEADSET jack of the phone!
Step 5) MAKE SURE LIFTER MODE LIGHT IS ON. Whether or not you are using a lifter! You change the lifter mode/no lifter mode by pressing the MODE button on the charging base (next to the Mic Volume buttons)!
Step 6) Set Lifter Audio Adjust on the base to D!
Step 7) (optional): If they have a Lifter (DISCONTINUED!) to set up, please proceed to article #1506
The Tel Wal Jack (red dot jack) will be empty (they do not need this cord and can set it aside!)
They should have not a Dial Pad! This set-up will not work with one!
*Please note, the Marathon does not like to always work in the Headset Jack of telephones. However, to set it up in a headset jack, Simply leave the curly cord plugged into the phone and follow the instructions above plugging the Base Jack cord into the HEADSET JACK of the telephone. Remember to instruct the Customer to use the Headset Button on the telephone to answer calls. For Cisco telephones in the headset jack, set Lifter Audio Adjust to A!
Please Note that the Marathon has to charge for 6 Hours before 1st use!
Charging it overnight is even better! Set up a Product Support callback for the Customer for 6+ hours in the future (or the next day) if they have not charged it yet! We will be happy to help them test it out!