So glad you asked!
The male 2.5mm to Male RJ45 adaptor cord (Cat # 2180) comes in two pieces and plugs into a black box to form 1 cord.
Customers CAN take this apart but they SHOULDN'T.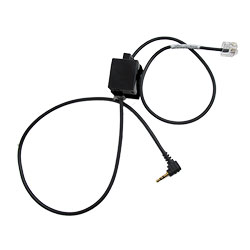 The RJ 45 to RJ9 cord and the RJ9 to 2.5mm cord don't work well on their own. For example, you can't use it to plug a Leitner wireless headset into a 2.5mm jack. (For that you'd want cat # 2178, the Polycom adaptor box) [DISCONTINUED]
BUT TOGETHER, THEY ARE MAGICAL!
They work for OfficeRunners (and other Sennheisers) and Plantronics wireless headsets.
They do NOT work with Cisco SPA phones that have those weird headset jacks. But for just about every other office phone that has a 2.5mm headset jack, these should work wonders for wireless headsets.
So there you go and now you know!