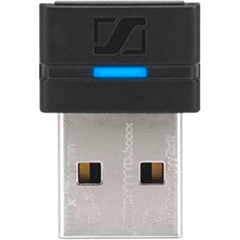 We can try this when the Bluetooth headset can't seem to pair to the dongle. Remember there is a separate reset for the Bluetooth headsets.
Dongle Reset
1) Hold the button on the dongle until it begins to flash red and blue (this means it is in pairing mode)
2) Now, while it is still flashing press the button twice rapidly. You should see some purple flashes followed by going back to pairing mode
And that should do it!
Time for a new headset?
Many Sennheiser Bluetooth headset users have switched to the Leitner LH370!