You may be asking yourself "How long should a Leitner battery last?" Well, there are a couple answers to this question. One answer will tell you how long you can leave it on throughout the day, and the other answer will be how many years you can charge and recharge it.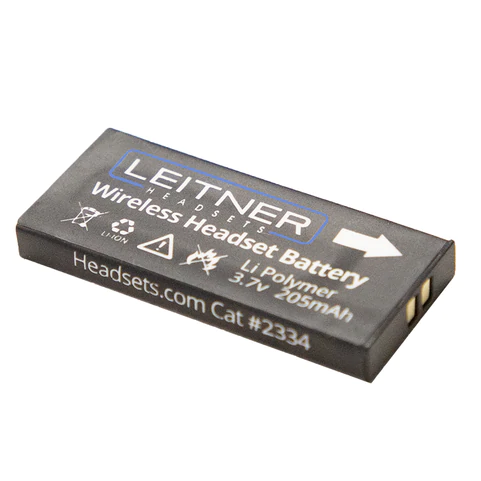 How many hours a day you can use the headset
These batteries are designed to be out of the charger and turned on for up to 8 hours per day. If you leave your headset turned off while it sits on your head between calls, this number will get longer.
There are a few things that can affect your overall battery life, which are listed below:
Distance
The further you get away from the headset base, the more power the headset will need to use to remain connected. So if you spend most of your day 100 feet away from your phone, you may experience lower-than-normal battery life.
Volume
The louder you make your Leitner headset, the more power it will draw when being used. Louder microphones and speakers require more electricity, so if you need some extra juice consider turning it down.
Age of the battery
The longer you hold on to the battery, the lower the life of each charge. Even after a year of use, you may notice some reduced battery life. An older battery will often take longer to charge fully as well. Once it gets to this point and you are only getting an hour or two of talk time, it is time to replace it.
Leaving it turned on
Leitner wireless headsets will use a tiny bit of battery power when outside of the base, but uses much more when turned on. To extend your battery life, it is best to leave it turned off between calls to conserve power. Luckily the power button is within arm's reach!
Temperature
In most cases, you won't have to worry about this, as offices have heaters. But in case you work in an environment where the batteries will be making extended contact with cold, freezing weather, it can affect battery life. It's chemistry, unfortunately.
Leitner battery overall shelf-life
In addition to daily charge time, the battery also has a lifespan. You can typically expect 2-3 years of use from one of these.
If you don't use your headset all that much per day, you may not even notice that the battery life is depleting. But that one random day you need to use it for 6 hours, it may not have the juice left if the same battery has been installed for 4 years.