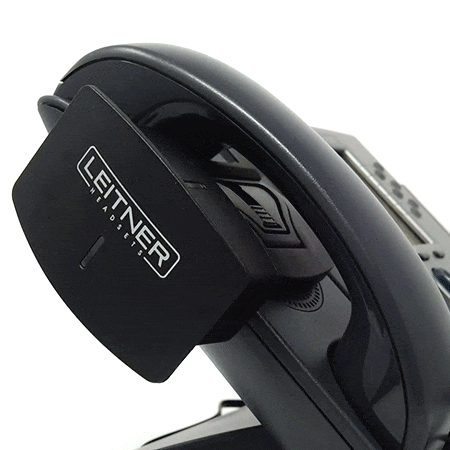 Leitner Lifter Overview:
1. LED: This light with illuminate green when the phone is ringing.
2. Lifter Arm: In addition to raising and lowering the handset, the lifter arm also contains a sliding switch that is used to move the main ring detector in the lifter. Sliding this switch helps insure that the ring detector is positioned correctly, in the middle of the phones speaker.
3. Lifting height adjustment slide switch: This switch has 3 positions ( Low, Medium, and High). If the switch is closest to you it is on high.
4. (Underside) Optional Microphone Sensor Jack: This is the first of 2 sensor extension jacks located on the lifter. By plugging the microphone extension (pictured to the left) into this jack, you can adhere the ring sensor to the middle of your speaker if it is located in a place other that under the handset.
5. Optional Secondary Microphone Sensor Jack: this jack, like number 4, is used to extend the ring detector for the you.
6. Handset lifter connection cord: This is the connection cord, and power source for the RHL - 2010. It will plug into the back of the Leitner wireless headset charging base, in the largest jack in the center.