On a typical day you should expect your LH500 or 600 series headset to work great, but if you do encounter an issue, here are some steps you can take to get your headset back up and running!
If you have the Leitner Premium Lite (LH200/300) series headsets, check out this article for your headset troubleshooting needs!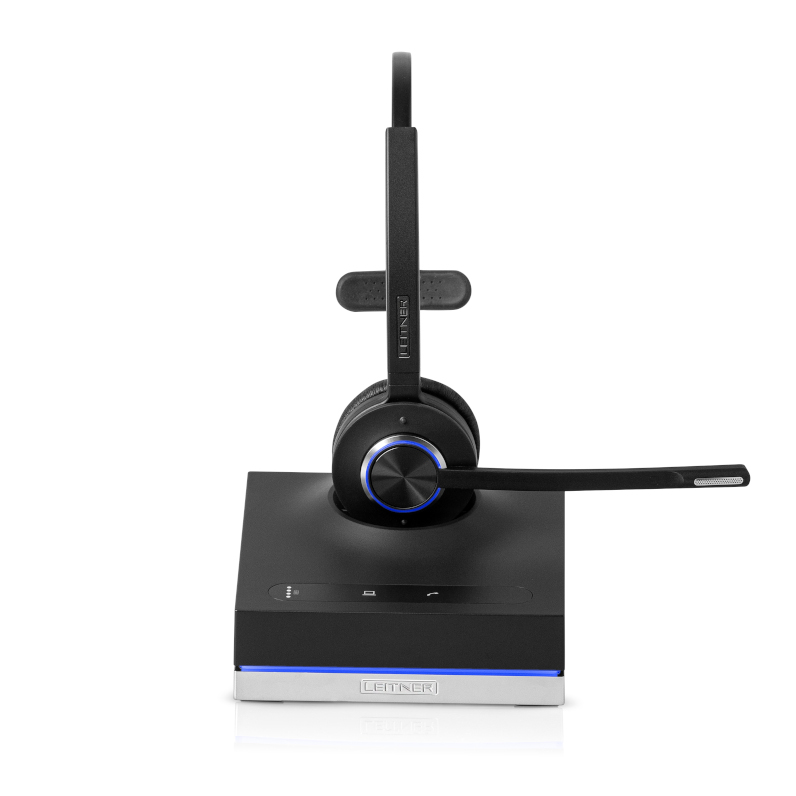 No battery lights
If you can't see any battery lights on the left side of the base, we can try a resync!
Resync
First, try placing the headset in the charging base to see if it can sync up automatically. If your headset has been left off the charger or unplugged for a while, it may just need to charge on the docking station for at least 10 minutes for it to charge enough to show battery lights
If this doesn't work, let's try a manual resync!

Make sure the headset is turned off, out of the charging base, and the headset is in phone mode
Press and hold round silver on/off button on the headset for 8 seconds until the FocusLight flashes blue once, then let go
Headset FocusLight will then start flashing purple
Press and hold phone button on the headset base for 5 seconds until it flashes, then let go. They will flash purple together for a few seconds. Once they're paired, the TEL light will go solid and the FocusLight on the headset and base will turn off
DCA Reset
Put the headset in the charger so that the FocusLight on the base lights up blue
In the back of the headset base, unplug the power cord for 10 seconds, then plug it back in
You should see the blue FocusLight on the base light up and pair to the headset itself and turn the battery lights on
If you run into an issue you can't solve, give us a call at 1-800-HEADSETS (432-3738)!