[OFFICERUNNER DISCONTINUED]
[DW PRO1 DISCONTINUED]
Let me stop you right there!

Headsetup is an older Sennheiser program. Thankfully we now have Headsetup Pro. We should always be downloading Headsetup Pro moving foward.Continue below if Customer already installed Headsetup on their own

Sennheiser Headsetup

The software that is included with the OfficeRunner is not required for computer use. What the software does is automatically set the OfficeRunner as the default device on the computer, and enables remote phone pc switching with a handset lifter.

If the software is installed the user will need to open the program and go to "Settings" and enable "Always Audio". If this is not done the headset will not stay in Computer Mode.

There is a new version for Headsetup for Mac now! Go to the Sennheiser Software page to download it:

https://en-us.sennheiser.com/headset-software-pc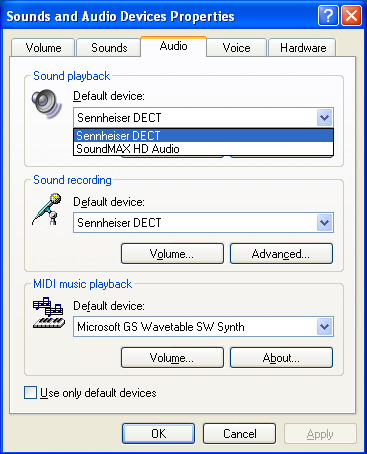 TROUBLESHOOTING
Ensure that the USB cord is securely connecting the base to the computer.
Check in the computer's sound settings that the DW Office is the default device for Sound and Recording.
You may have to have the Customer disable any other devices selected in the Playback & Recording tab.
If they're still having a problem.....
Find out if the Customer installed the HEADSETUP program installed. If they did have them bring up that program and click on SETTINGS.
From here make sure that ALWAYS AUDIO is selected (NO RED LINE THROUGH IT).
If you have taken all these steps and the Customer is still having issues, it is often helpful to have them restart their computer as well!