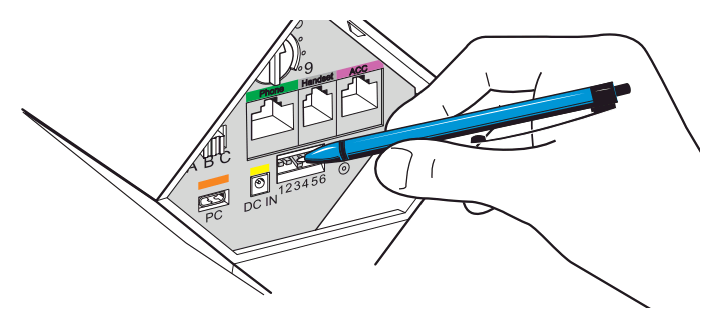 Compatibility Settings:
A is the most common.
C is generally used in headset jacks on Cisco phones.
Dipswitch Settings:
#1: Move down when there is an EHS (except Shoretel or mobile EHS)
# 2: Moved down when there is a Mobile EHS plugged in
#3: If there are many wireless units being used in a small space and the user is experiencing interference from other wireless units move this down
#4: Move down for "Auto On" feature. Headset will turn on when headset leaves the base
#5 This switch controls Wideband / Narrowband mode. When in wideband mode (UP) the call clarity and range should be better but battery talk time is 8 hours. Narrowband mode (DOWN) can reduce range but provide 12 hours of talk time
#6 This switch regulates volume to comply with European standards when in the DOWN position. So, just leave it UP
There is a "cheat sheet" on the inside of the back panel for the charging base.
Please Note: If dip switch1 or 2 is down, the ORL12 will not work and the receiver will not work if plugged into the base. So have those switches up if using a lifter.