[OFFICERUNNER DISCONTINUED]
The OfficeRunner Trainer Bundle offers flexibility to any desk. If you've already got an OfficeRunner, or other Sennheiser wireless headset, the training bundle will allow you to quickly let people listen in to your calls or conference in on a call with you.
Also, the OfficeRunner Trainer Bundle is perfect if you share your desk with someone, but don't want to share your headset. You can have two separate headsets, for use with a single headset base.
The Box will include 1 Office Runner Microphone, the USB charging stand, and 1 bendable earloop.
The charge time on this stand is still 1 hour to a full charge, and like the standard charging cube, the charging cycle will turn off once the headset is fully charged. The main difference when charging a mic on this stand is that there are no charge indicator lights on it, you would just look for the solid blue light to turn off indicating that the charge cycle has finished.
You can then sync the mic to any Sennheiser Wireless base you have to use as either a replacement or for training/conferencing purposes.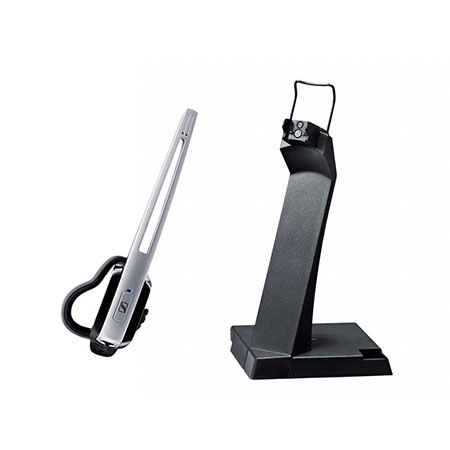 Here are the technical specs for this item:
Manufacturer Sennheiser
Catalog Number 2151
Type Wireless
Wearing Style Not Applicable
Max Range / Cord Length 6 ft.
Connector Type USB
Weight 0.78 oz.
Compatibility Not Applicable
Microphone Noise-canceling
Earpiece Rubber
Color Black
Special Technologies ActiveGard™
Warranty 3 Year Replacement
Battery Life Not Applicable
Reversible Yes
Busy Light Not Applicable
Quick Disconnect Not Applicable
DC Adapter Compatible No, but you can use a USB DCA converter
Digital Encryption Not Applicable