Note: Make sure no other headsets are connected to the phone when installing EHS cable
Start in the phone settings of the Polycom Phone.



We want to be on a different phone then the one we are connecting the EHS into. The phone may reboot after this set-up instructions! This will disconnect the call!

Changing phone settings:
Click on the menu or home button
Choose Option 3 (Settings)
Choose Option 1 (Basic)
Choose Option 1 (Preferences)
Choose Option 3 (Headset) In some models this will be option 4. verify using the title "headset"
Check Headset Memory Mode-- Should Be Disabled
Go back a step in menu and select Option 2 Hookswitch Mode (Older phones may say Analog Mode) and set it to Poly EHS (may also say "Plantronics EHS"), and the phone should reboot.
Finishing setup in Plantronics Wireless Headset
Set compat to A at the bottom (or side) of the headset base and unplug the charging base
Connect the RJ45 end (the end by itself with big phone cord with small pin attached)to the phone port in the back of the Plantronics Wireless charging base (this is the largest jack in the center of the base with the little hole to the left. See pictures below). Connect the 5-pin jack end of this cable to the 5-Pin AUX JACK in the back of the Polycom telephone, and the remaining phone cord into the headset jack in the Polycom phone.
Then, plug the power cable back in at the back of the base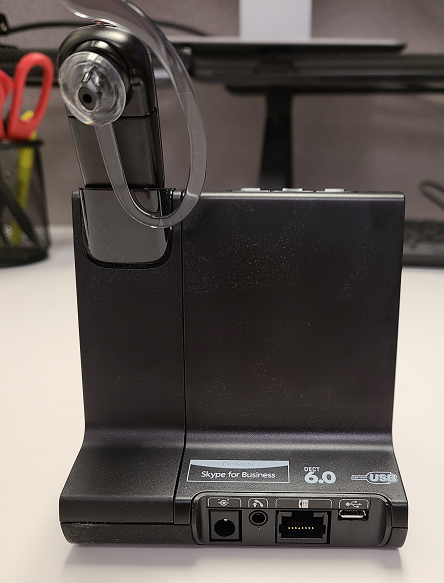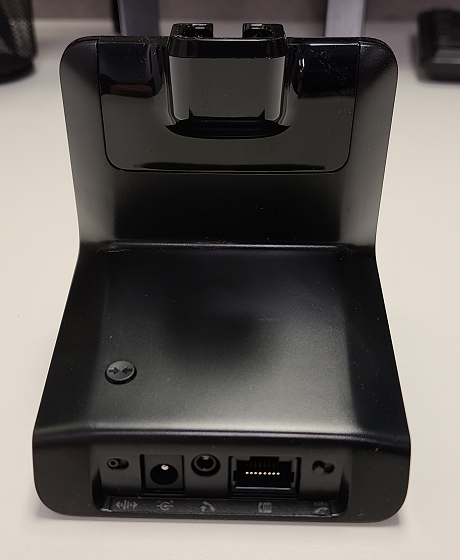 That's it, you're done!