Dislaimer: We do not sell this product and do not have much information about it aside from what is already in this article. If you can't get it working, we suggest reaching out to your IT team or phone provider to see if they can help you out.
USB dongles are short little USB plugs that are used to make computers and phones Bluetooth ready simply by plugging them into the USB port. Once connected and paired you can use a Bluetooth headset with your device!
If you have a laptop, you most likely don't need one, by the way.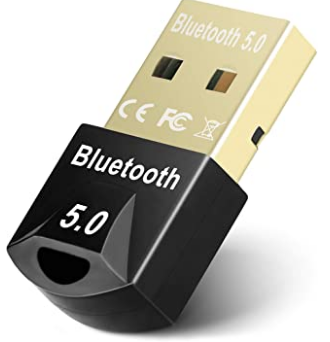 Making Polycom Phones Bluetooth ready
A lot of the VVX Polycom phones have a USB port, and it can be used for a headset, including a Bluetooth dongle!
This is confirmed in Polycom VVX 250, VVX 350, VVX 450, VVX 500, AND VVX 600 phones, and it may even be available in others, as long as you have the USB port.
The BTD 800 dongle from Sennheiser would work great. Simply plug it in, then put it into pairing mode by holding down on the button at the outer tip of the dongle until it starts to flash red/blue. Once paired with the Bluetooth headset, you should be set as long as you keep it plugged in!
Already have a DECT wireless headset?
Many wireless headsets don't use Bluetooth as their wireless connection, but use DECT instead, you can use something called an Electronic Hookswitch to be able to answer the phone from a distance, but each brand of headset has their own kind
Leitner Wireless
Sennheiser Wireless
Plantronics Wireless
Time For A New Headset?
Many Customers with Polycom phones use the Leitner LH370.