There is a special process for rebooting your phone. In fact, for the Yealink T5xx phones, there are a couple of ways, so let's check it out!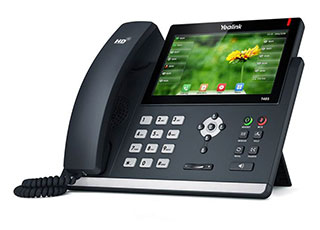 Rebooting/Restarting the phone
T54W
Long press Cancel (picture of an X) on the keypad when phone is idle
When option to reboot comes up, select "yes" or whatever action means "yes"
Phone will reboot as normal
T57W
From the idle screen select Menu then move to Basic --> Reboot
Select Reboot
Alternative reboot methods
T57 and T58
Simply press and hold the * (asterisk) button on the phone until it asks you to reboot.
T57W
From the idle screen, select MENU
Navigate to BASIC
Select REBOOT
T58A
Swipe left or right on screen to get to second idle screen (or swipe down from the top to access the Quick Settings menu
Select SETTINGS
Navigate to BASIC SETTINGS > REBOOT. Select REBOOT
And that's about it! Once done, you should have a fully rebooted phone!
Time for a new headset?
Many user of Yealink phones have switched to the Leitner LH370