ActiveGard limits the volume that can come out of a speaker to 103dBs. (By comparison, this is a little bit louder than say a motorcycle engine)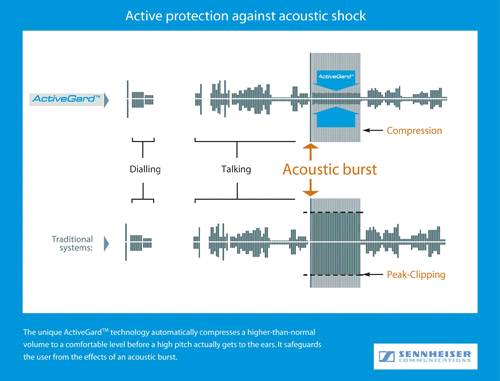 What does that mean?
ActiveGard ensures that the speaker volume is normalized so that your hearing is not damaged by the headset.
The best way to explain this is to think in terms of your TV.
When the show you're watching is on the volume of your TV is fine... then the commercials come on and suddenly the volume is MUCH louder. We've all experienced this.
ActiveGard would prevent the commercial volume from being louder than the TV Show's volume.
Now, imagine talking to someone on their CS55. They spike their mic volume all the way to the top. Normally that would blast out your ear and distort the sound. ActiveGard is going to prevent that from happening. You'll notice a sound change but your headset will "normalize" the sound.
What headsets have ActiveGard?
DW Office [DISCONTINUED]
DW Pro1 [DISCONTINUED]
DW Pro2[DISCONTINUED]
Deskmate HSC 230
Deskmate HSC 260 [DISCONTINUED]
CC510 [DISCONTINUED]
CC520 [DISCONTINUED]
SC230 [DISCONTINUED]
SC260
(Every current headset that we carry of Sennheiser's has ActiveGard. This is part of the headset itself and does not require an amplifier.)