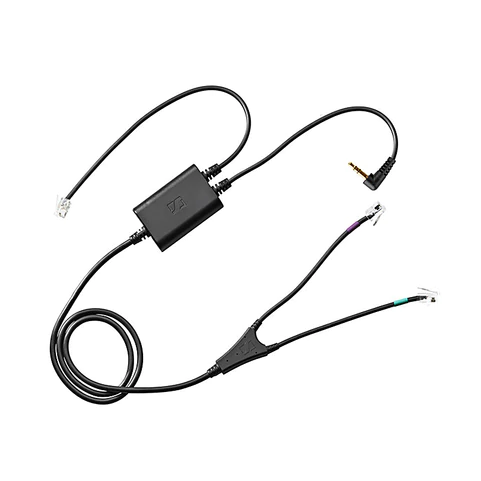 If you have a specific set of Panasonic phones, you may be able to get in on the remote answering fun without getting a lifter. Enter the Sennheiser Electronic Hookswitch (EHS) for Panasonic phones.
This nifty little device will allow you to answer your phone while not near your desk simply by turning the headset on. If your Panasonic phone isn't on the list of compatible devices, fear not; you can still the Sennheiser remote handset lifter.
Already have a Leitner wireless headset? Then you will be able to use the Leitner handset lifter!
Sennheiser Panasonic EHS Setup
1. Start with everything disconnected from the back of the headset base and the headset out base
2. Connect power
3. Connect the green and pink end of the EHS into the "Phone" and "Acc" port in the back of the base
4. Move ALL dipswitches down
5. Press the dimple button in the back of the base (do not press and hold! Just 1 click) We should now see the 3rd battery flash in this sequence – Flash, pause, flash, pause and so on. If the 3rd battery flashes quickly with little to no pause in the flashing, the headset did not go into Panasonic mode. If the first or second light is flashing, instead, then press the dimple button twice or once (respectively) to move it to the 3rd light. If all else fails, try again!
6. Move dipswitches 2-6 up
7. Connect the other 2 ends of the EHS into the phone. The RJ9 will go into the HANDSET jack of the phone (not headset that is a 2.5mm) The 3.5mm end will go into the EHS jack of the phone that is located on the left hand side of the phone base
8. Plug the loose end of the curly cord into the back of the headset base into the HANDSET port
9. Put headset back on the base, let it pair then test
FYI – from experience, the handset does not work in the headset base when we have the Panasonic EHS connected.
We noticed doing steps above is not always successful, since the firmware should be v133 or higher. Transfer to PS (or call us directly at 800-923-0018) for that download EPOS Connect check firmware and update if needed.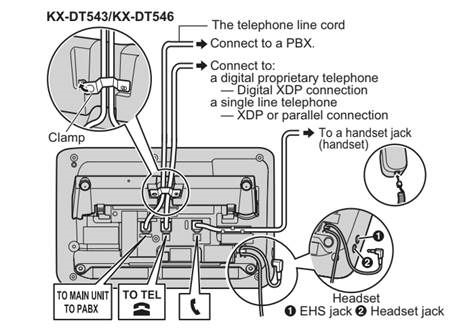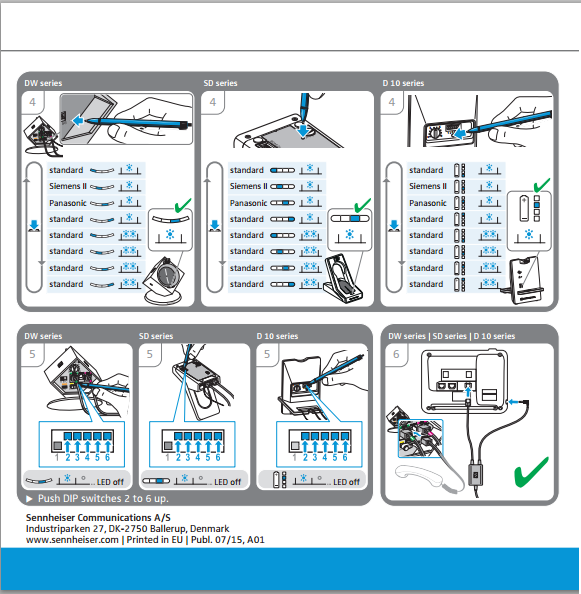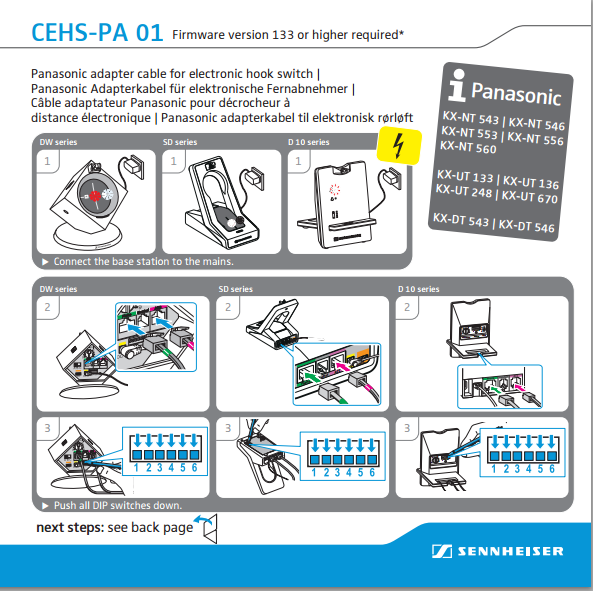 **If no sound out of headset, may need to disconnect power from base for 20 seconds, reconnect, and then retest headset.