[ALL DW PRO1 DISCONTINUED]
[OFFICERUNNER DISCONTINUED]
Hey remember those sweet screenshots from your training for EPOS Connect that have the basic settings for the OfficeRunner? Well, here they are, now in HDSAnswers!
Complete text of all the setting is at the bottom of this page
Photo 1 - OfficeRunner/DW Pro settings for a lifter or no remote answering.
Phtoto 2 - OfficeRunner/DW Pro settings for a hookswitch cable.
If these aren't large enough images, you can also view them in full size in the shared Employees folder under Product Support--->EPOS Connect Basic Settings. Thanks!
For basic settings for the SDW 5016 headset in EPOS Connect see article "Standard EPOS Connect settings for SDW 5016"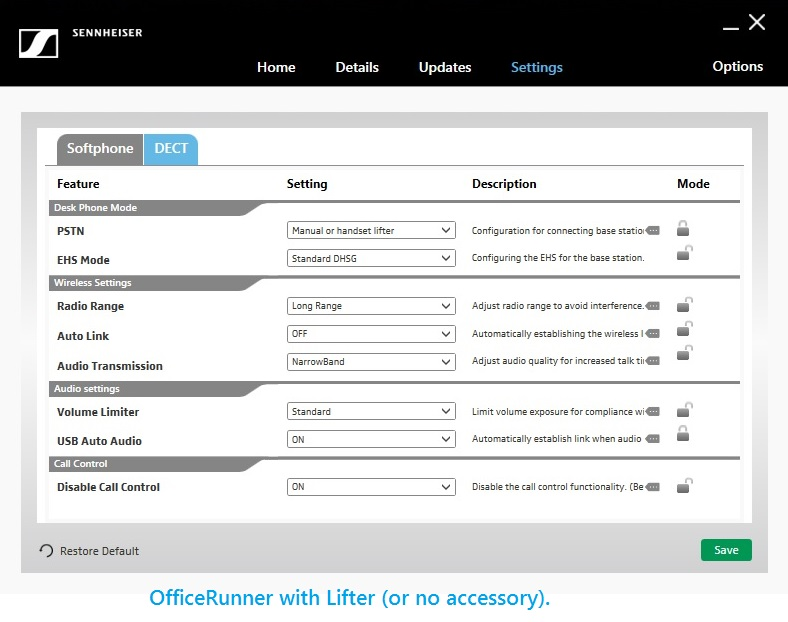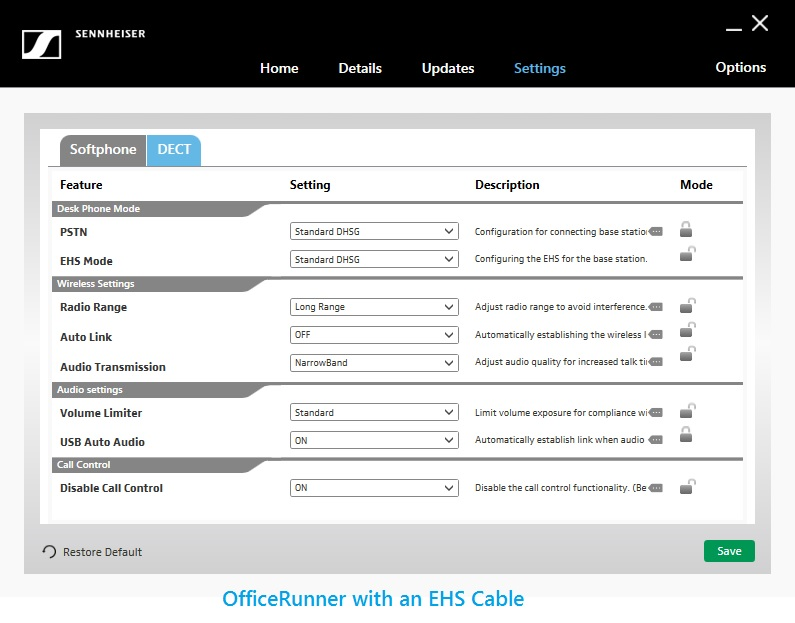 First, make sure your OfficeRunner is plugged into the computer. It will need to stay plugged into the computer so that EPOS Connect can maintain the settings you're about to set up. If your Customer cannot leave it plugged into the computer, then you'll want to STOP and use the physical dipswitches on the back of the headset base.
If your Customer is down to leave the headset plugged in forever and EPOS Connect running, then proceed to the insturctions below...
Open up EPOS Connect. You should see a picture of your headset on the Home page. (See Photo 1)
Click on the Settings button right above the picture of your headset.
Once you're in the Settings section, click on the tab that says DECT.
Adjust your settings as-needed using the instructions below
Hit the green SAVE button on the bottom right side of EPOS Connect to save your changes.
*Please note that you can't make changes and save them while you're using the headset. The headset must be docked on the base before you hit "save."
PSTN is your hookswitch setting. It represents Dipswitches 1 &2 on an OR base.
Set it to Manual or Handset Lifter if the Customer is NOT using a hookswitch or lifter.
Set it to Stnadrard DHSG for all OfficePhone hookswitches.
Set it to Standard MSH for all Cell Phone EHS cables (that would usually use D/s 2)
If a Customer has a hookswitch cable that seems to be delaying, try setting it to Fastlink. That may help the EHS cable pick up quicker. Most Customers will be fine on Standard DHSG mode, though.
EHS Mode can be left on Standard DHSG for most Customers.
If they have a special Siemens EHS cable that wants the base set to "Siemens mode" then instead of doing that change it to Siemens Optipoint EHS.
If they have a special Panasonic EHS cable that wants the base set to "Panasonic Mode" then select "Panasonic Mode" instead of going through those steps.
Anything else, including Customers NOT using EHS cables, should be set to Standard DHSG.
Radio Range represents Dipswitch 3 on the OR base.
Long range = D/s 3 in the UP position. Most Customers will want to leave this one in Long Range mode.
Short range = D/s 3 in the DOWN position.
Auto Link represents Dipswitch 4 on the OR base.
ON = D/s 4 in the DOWN position. With this on, the headset will automatically turn on when removed from its base.
OFF = D/s 4 in the UP position.
Audio Transmission represents Dipswitch 5 on the OR base.
Most of our Customers will want to set things to Standard. This is a setting between Wide and Narrow Bands.
If they would like longer battery life, they can set themselves to Narrowband.
If they have a special wideband phone (they would specifically say this on the phone's info) then they can set it to Wideband for richer sound quality. However, doing this may make the battery life a bit shorter than a full 8-12 hours.
Volume Limiter represents Dipswitch 6 on the OR base.
All of our Customers want this set to Standard.
Limiter is a setting only used in Europe.
USB Auto Audio
This needs to be ON to get sound out of the headset on computer mode. So leave it ON for most of our Customers.
Disable Call Control
• Most Customers will want to leave this OFF. We want to be able to answer calls with whatever accessories we have purchased.