How to use training y-cables with USB QD cords for corded headsets.
The most important thing to know is that:
At this time, we do NOT offer a training solution for USB headsets that go straight into USB!
They MUST be Quick Disconnect headsets in order to use one of our training cables!
Here's what works best together:
2 Plantronics headsets + Plantronics Y-Cord (Cat #1232) + DA70 USB Cord (Cat #2368)
Plantronics does NOT work with the Leitner Training Cord, use Plantronics cord only!
2 Leitner Headsets (PLUSH models included) + Leitner Training Cord (Cat #2431) + Leitner USB QD Cord (Cat #2346) Set compat on both the headsets AND the USB qd cord to 2 & 4 or 2 & 3
Note: The newer QD cords do not have their own compat, so the only switches are on the headset side
Leitner does NOT work with the Plantronics Training Cord. The mute feature mutes ALL sound from both headsets.
2 Sennheiser QD Headsets + Sennheiser Training Cord (Cat # 1977) + Sennheiser USB QD Cord (Cat # 2181) OR (Cat # 2298)
Sennheiser only works with Sennheiser Cords
2 EP Headsets + EP Training Cord (Cat #1191) OR Leitner Training Cord Cat (#2431) + Leitner USB Cable (Cat #2345) Set compat on the Leitner USB cord to 2 & 3 (newer cords will not have compat switches)
Executive Pro works with both EP training cords and Leitner Training Cords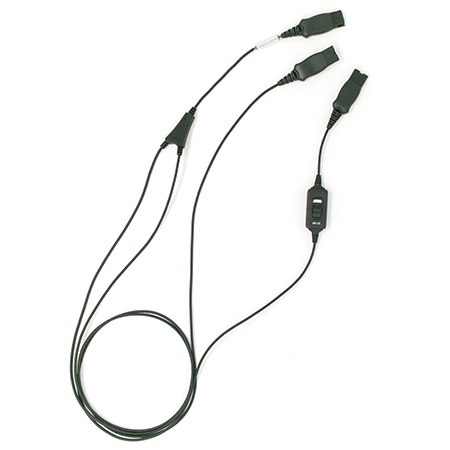 Are we sensing a theme? YES, it's best to keep each headset with its brand! EP is our only exception here.
What you can expect:
You caller can hear both headsets, both headsets can hear the call, BUT users cannot hear each other in the headsets. This should be okay, though, since you're sitting right next to each other connected by a cord.
Got it? Great! Now let's get our training on!