[DW PRO2 DISCONTINUED]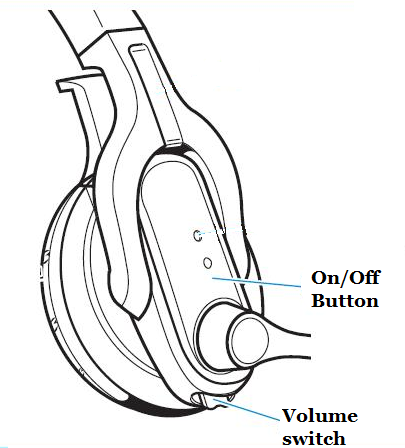 LINK BUTTON
Powers the headset on/off
Located just above where the microphone meets the earpad. Will be marked with a raised dot so you can feel it with your finger
Will answer/end the call with the addition of a handset lifter/EHS or with softphone systems that are HID(Human Interface Device) compliant.
AUDIO BUTTON
Will adjust the volume up/down and mute the headset.
Located below the earpad where the microphone is.
-Press in to mute
-With mic boom on right: flip the notch backwards to lower volume, forwards to raise volume.
-With mic boom on left: flip the notch forwards to lower volume, backwards to raise volume.
To change which direction the audio button flips to raise the volume:
-Press + Hold the Link Button and the Audio Button until the headset begins flashing red/blue.
-While the headset is flashing, hold the Audio Button in the direction you want to be for increasing volume. After a few seconds, the red and blue light will shut off. You can then power the headset back on like normal.