Dial Pad Buttons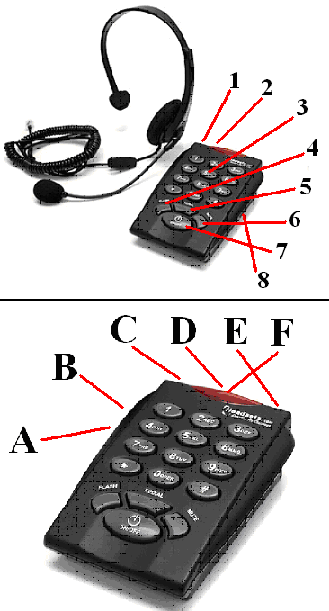 1. Flash Switch: This is the speed at which you can switch to another line when using the "Flash" feature (1 second, 2 seconds, 3 seconds), OR, if you have a call center phone lines, the speed at which your calls are connected. If you have the Chattaway plugged directly into the wall jack, setting 3 is recommended. If you have a newer Chattaway it may say numbers in the hundreds, this is a call center setting. If you work for a call center you can ask what you would prefer they be set to. If not, you can set it all the way to the right.
2. Ring: This changes the ringer volume from High, to Low, to Off.
3. Number Keys: The Chattaway has a key pad with basic number keys to dial just like a standard phone.
4. Flash: Used to answer another call if you are subscribed to Call Waiting.
5. Redial: Allows you to redial the last number dialed. This function may not always work when dialing a number that starts with 9 or 0.
6. Mute: Mutes the outgoing (microphone) volume.
7. On/Off Switch: Turns the headset on and off.
8. Volume: Used to change incoming volume only. There is no microphone volume control.
Lights
On the top of the Chattaway there is a red screen (F) to alert you when the headset is turned on/off and when the call has been muted:
On: A solid red light appears on each end of the red screen.
Off: The red screen is blank.
Mute: When a call has been muted, a solid red light will appear in between the two "On" lights.
Connections
A. 2.5mm Jack: The Chattaway comes equipped with a 2.5mm jack which is compatible with any 2.5mm headset.
B. Headset Jack: Connection for the Chattaway headset (Mono/Binaural).
C. EXT (Extension Jack): Allows you to plug in an additional phone, fax or modem. If you plug another phone into this jack you will be able to make 3-Way calls.
D. TEL (Telephone line): Plug one end of the phone cord in here and the other end into the wall jack.
E. REC (Record Jack): When using the phone, you can record your conversations using an external recording device by plugging it into the 3.5mm jack marked "REC" (e.g. Digital Logger).
Headsets
The headset for the Chattaway comes in two different styles, Monaural (A) or Binaural (B). The dial pad for the Chattaway is standard so the headsets will be interchangeable.
Headset Note: If you have the Chattaway headset plugged in and a 2.5mm headset (C) plugged in at the same time, both individuals will be able to listen and talk on the same call.