Executive Pro Amplifier (pictured below)
1. Headset / Handset Switch
2. Talk Indicator Light
3. Volume Control (incoming)
4. Mute Switch
5. Microphone Volume Control
6. Battery Compartment
7. DCA Adapter Plug In
8. Handset Jack
9. TEL Jack (Connect To Phone)
10. LA-11 Jack
11. Headset Jack
12. Compatibility Switches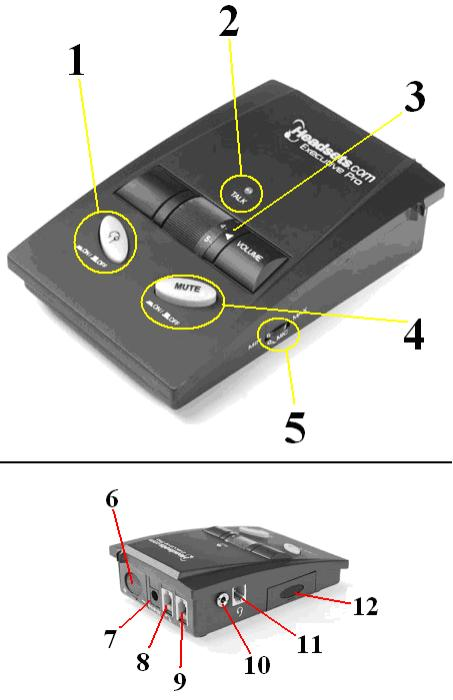 Executive Pro Troubleshooting
If you experience static, dead air or volume fluctuations, check the compatibility switches. The most common settings are 1/A and 1/C. Next, make sure the mute switch (4) is not pressed (the talk light glows red [2] when mute is down).
If issues persist, try new batteries or another headset on the amplifier. This can tell us if the issue is with the headset or the amp.
If you have to hold down the volume switch (3) to get a clear signal, the amplifier is defective and needs to be replaced.
If there is no audio after checking the set up try plugging the headset directly into the phone. If there is still no audio replace the headset. If there is, the issue is with the amp.