Executive Pro Amplifier (pictured below)
1. Headset / Handset Switch
2. Talk Indicator Light
3. Volume Control (incoming)
4. Mute Switch
5. Microphone Volume Control
6. Battery Compartment
7. DCA Adapter Plug In
8. Handset Jack
9. TEL Jack (Connect To Phone)
10. LA-11 Jack
11. Headset Jack
12. Compatibility Switches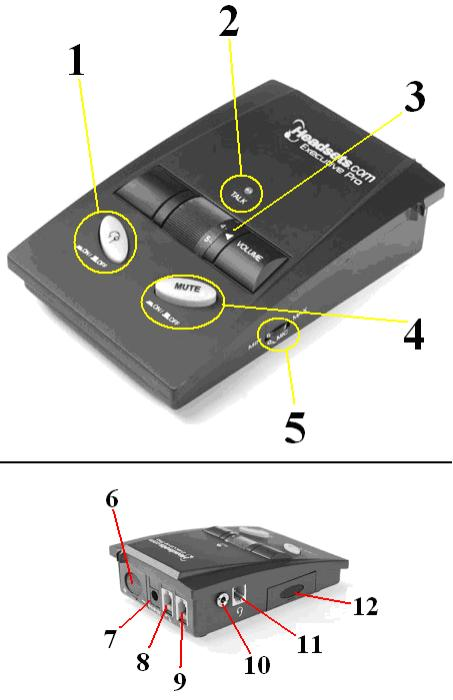 Executive Pro Headsets
Executive Pro headsets come in various styles (monaural, binaural and convertible). The headset ends in a quick disconnect clip and routes into Executive Pro (EP) and Executive 3 Elite (E3E) amplifiers via the included quick disconnect to RJ9 modular cord (included with headset). Executive 2 Elite (E2E) users connect via a quick disconnect to 3.5mm adapter cord (PTS/3.5-QD/GREY, sold separately).
Executive Pro
Though the Executive Pro Series will work with most phones, there are compatibility exceptions. These include AT&T / Lucent / Avaya Partner, Merlin II and BIS models, Nortel Meridian phones with headset jacks, ESI, Panasonic KXT4000B, and Emerson EM-2240 phones. If incompatible, the headset may not work at all, have poor sound quality, or a constant buzz on the line. The Plantronics S12 and M22 (with H-series headset) are great alternatives.
LA-11
The LA-11 is the handset lifter for the Executive Pro Series. It clamps onto the side of your phone and connects to an EP base (10) via the included 3.5mm patch cord. Press the "On/Off" button to activate the the lifter and take in a call. Press the button again to disconnect the call and lower the lifter. The power adapter (PTS/DCA/EP, included with LA-11) is required when using the LA-11 as batteries do not provide enough power for the lifter and amplifier.
Executive Pro Troubleshooting
1) If you experience static, dead air or volume fluctuations, check the compatibility switches. The most common
settings are 1/A and 1/C. Next, make sure the mute switch (4) is not pressed (the talk light glows red [2] when
mute is down). If issues persist, try new batteries or another headset on the amplifier.
2) If you have to hold down the volume switch (3) to get a clear signal, the amplifier is defective and needs to be
replaced.
3) If there is a constant buzz and you are using a power adapter, try using batteries instead. If the buzzing stops,
remove the batteries, plug the power adapter into another outlet (preferably directly into the wall), and try again. If
the buzz is still there, switch back to batteries or replace the power adapter.