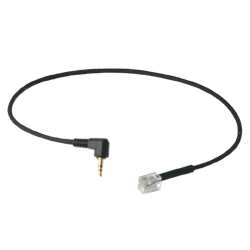 The male 2.5mm to male RJ9 adapter cord connects corded or wireless headset systems that have an RJ9 output jack (like the M22 (DISCONTINUED), S12 (DISCONTINUED), GN8000MPA (DISCONTINUED), Sennheiser Corded Headset Amplifier, UI760 (DISCONTINUED) and Executive Pro systems) to corded phones via a 2.5mm headset jack.
Note: It will not work with the Sennheiser OfficeRunner
Common corded phones with 2.5 mm jacks
This is a very incomplete list. There are many other phone models with these jacks. If you have questions about compatibility, give us a call at 1-800-HEADSETS (432-3738)!
AT&T 955 Panasonic KXTS-3282
AT&T 964 Panasonic KXTS-500
AT&T 974 Panasonic KX-T105
AT&T 992 Panasonic KX-TS108
RCA Executive Series Panasonic KX-TS620
Panasonic KX-TS208
Connecting the M22 to your phone's 2.5mm jack
The male RJ9 jack plugs into your headset amplifier via the jack designated by the diagram of the entire telephone set (both the phone base and handheld receiver – or the abbreviation "TEL" on Executive Pro systems). The male 2.5mm jack plugs into your telephone into the 2.5mm headset jack.
This connector allows the use of amplified headset systems for additional sound control and lets the user keep their phone on the hook while using a headset. This does not work for cell phones with a 2.5mm headset jack. We also would not recommend this connector for cordless phones at this time.