When it comes to wireless headsets, such as the Jabra GN 9350, there can be a lot of lights and buttons all over the place. Sometimes it isn't intuitive, and maybe the manual is too long? Regardless, we have all the information you need here!
Lights on Base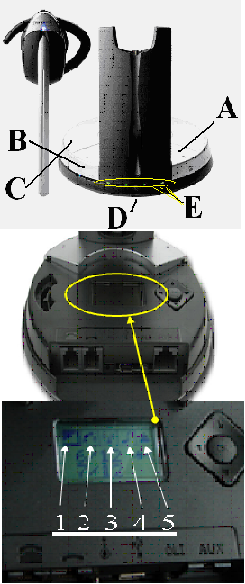 A) Telephone mode/Base talk button (Lit Blue when in telephone mode and flashing when headset is active)
B) USB mode/Base talk button (Lit blue when in USB modem, linked to the computer, and flashing when headset is active)
C) Pairing button (To designate a new master headset to the charging base simply place the headset in the base and press this button. The Telephone, USB and Headset indicators will light for 2 seconds and then pairing is complete)
D) Mute indicator (Lit Red when mute is activated)
E) Battery indicator (4 Green diodes: 1 equals 25% charge, 4 equals 100% charge)
Note: When the headset is placed in charging base all the diodes light for 1 second. As the headset charges you'll then begin to notice the diodes will start lighting up from left to right as the charge builds. No lights will flash until charge is at 25%.
9350 LCD Screen: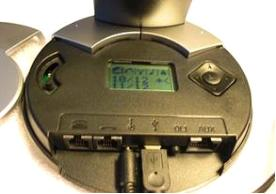 1 Transmit volume setting: Allows you to adjust the volume on the microphone. Special note for the USB applications the volume settings are fixed and need no adjustments
2 Hookswitch selection: Enables you to answer and end calls remotely by using the RHL1000 or the built-in electronic hookswitch (EHS) modes. EHS is only possible on certain telephone systems. There are 4 modes:
- GN RHL (non-EHS) - works with the GN 1000 RHL
- DHSG (e.g. Siemens and Elmeg desk telephones)
- AEI (e.g. with Tenovis desk telephones)
- MSH (e.g. with Alcatel desk telephones)
3 Range/power selection: If you experience interference while using the headset from other devices there are 3 modes to choose from which will allow you to change the range in order to sharpen the signal to the base (Normal: 300ft, Low: 150ft, Very Low: 60ft). Setting this to a lower range will sharpen the focus and clarify the reception.
4 Sound mode selection: This menu is split into 2 sections: "Treble/Normal/Bass" and "Fixed/Switch".
"Treble/Normal/Bass" allows you to adjust the tone of the sound and "Fixed/Switch" allows you to control the quality of the sound.
"Fixed" is set on narrowband while "Switch" automatically adjust between narrowband and wideband.
5 Protection level selection: Protects you against sudden loud sound spikes and provides a limit to the maximum noise exposure from the headset during the day. The level selection depends on how much you use theheadset:
Level 0 - Basic protection
Level 1 - Less than 4 hours
Level 2 - 4 - 8 hours
Level 3 - More than 8 hours
Level 4 - Recommended for Australian protection levels
9350 Reset:
1) Start with the headset in the charging base
2) Unplug the DCA from the bottom of the base
3) Remove the headset from the charging base and slide the battery off of the headset
4) Keep them separated for 10 seconds and then slide the battery back onto the headset
5) Place the headset on the charger (still leaving the DCA unplugged)
6) Wait 5-10 seconds and then plug the DCA back in