This is a funky one!
This is only used in banks! The picture below is what the bank Customers see when they pull up to the banks drive through.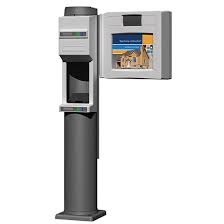 Description: The VAT 23GX is the best retrofit solution for remote retail banking, featuring an updated appearance, improved accessibility and audio/video capabilities.
Using an OfficeRunner we know it should be on phone mode, connector cord going into the only port in the system, and compat on B. As soon as the headset is turned on it gets audio.
Confirmed it works with:
AT&T Marathon, use base jack cord and set to lifter mode.