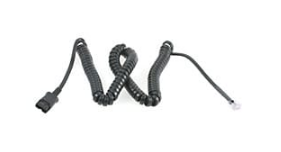 The EP10, is our answer to the A10 Cord. It's a "perfect 10! " :-)
Does that mean, if the compat guide says I can use an H series headset that I can now use the EP10 Cord with any of the Executive Pro Headsets?
You betcha!
In fact, we should be recommending this.
So, if you see EP10 missing from the compat guide - make sure to send it in to compat@headsets.com so we can update it.
Available Bundles:
PTS/EP10 - Headsets.com Quick Disconnect to Modular Jack Cord
MOD/HARMONY/NC/EP10 - Harmony Over-the-Head Binaural Noise Canceling Headset with EP10 Quick Disconnect Cord
MOD/MELODY/NC/EP10 - Melody Over-the-Head Monaural Noise Canceling Headset with EP10 Quick Disconnect Cord
MOD/RHAPSODY/NC/EP10 - Rhapsody Convertible Noise Canceling Headset with EP10 Quick Disconnect Cord (DISCONTINUED!)