That's a great question! Here's the deal:
For an example of a single-line phone, see Picture 1, for an example of a multi-line phone, see picture 2.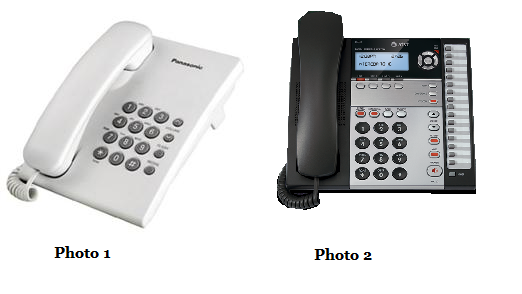 **Important**
Only single or 2 line phone use is compatible with the Cortelco 2720. (DISCONTINUED!)
The Marathon and CT14 (DISCONTINUED!)can only be used as a stand-alone telephone system with single telephone lines (meaning, plugged directly into the phone jack in the wall).
The CT14 (DISCONTINUED!) and Marathon can be recommended only for multi-line Partner Phones by AT&T , Lucent and AVAYA.
How can I tell which I have?
The difference between single-line and multi-line phone systems is usually evident in the phone itself.
Single line phones have only one line coming into the device and few extra buttons.
Instead, you have a traditional handset, plus feature buttons such as flash and redial.
A multi-line (more than 2) phone usually has an extra row of buttons for each different line, which allows the user to transfer calls to other lines, indicator lights that tell which line is ringing on one phone, and feature buttons like transfer.
How are they different?
Single-line phones are usually fine for most households, home offices and small businesses. That's because you only need one number for one area and everyone uses the same number and the same phone.
Multi-line phones are more applicable to business applications. The phone system is structured to allow different numbers to ring to the same phone and be routed to their intended destinations through the multi-line base phone, which is often stationed with a receptionist or other office professional.