Here we will show you how to do some advanced sound setting tweaking. This is perfect for changing sound settings in Windows 11 to include a wired USB headset or wireless computer headset! For the basic way to do this, check out our Windows 11 Audio Settings article!
Checking speaker and microphone privacy settings
Usually a headset will work great right when you plug it in. However, sometimes your IT team will change privacy settings. This may prevent you from using a specific device, but here is how you change them!
For both speaker and microphone privacy settings, we want to start by right-clicking on the speaker in the bottom right corner of your screen and select "Sound settings"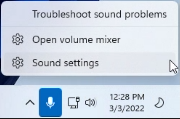 This will open up the sound settings page, which looks like this.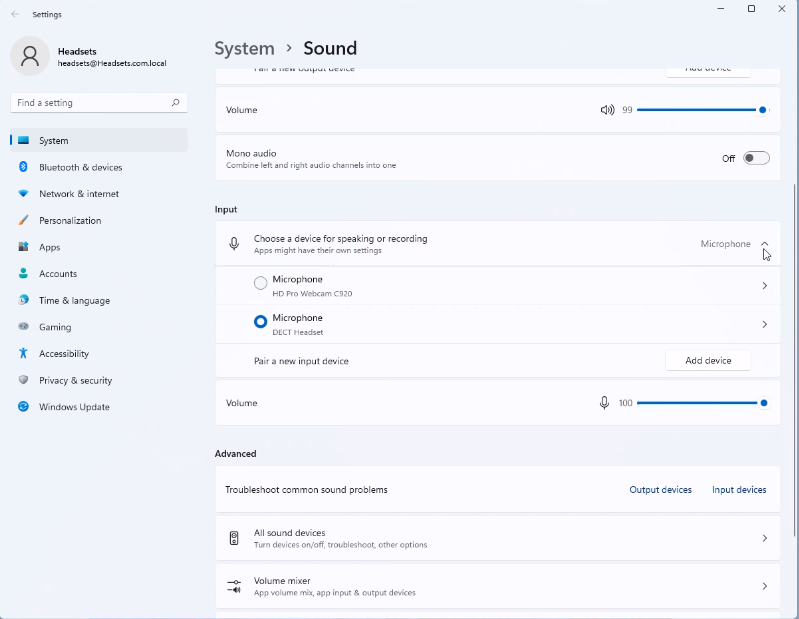 Speaker Privacy settings
Scroll down a bit until you see "Output" and click on the right arrow all the way to the right of the speaker you want to check the settings on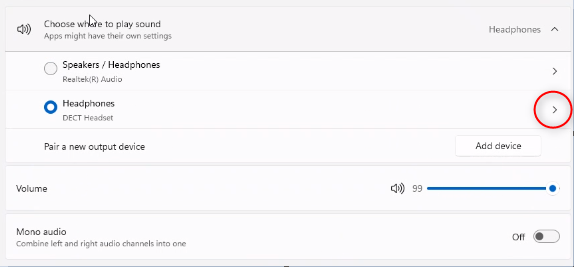 Under the "General" area, there will be a box with the words "Allow" or "Don't allow" to the right. It is slightly confusing, but if it says "don't allow", that means your speaker is currently available to be used.

If you click on it, it will change to "allow", which confusingly means "don't allow"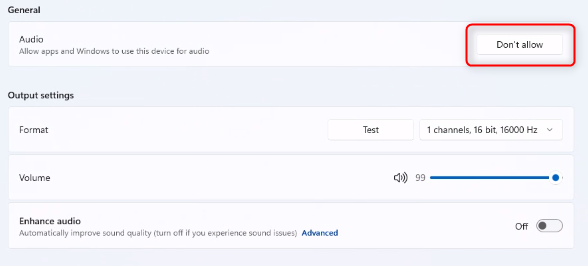 Microphone privacy settings
Back in the original sound settings part, scroll down to where it says "Input" and click on the arrow to the right

Just like with the speaker, if you want the headset microphone to be available for you to use, make sure it says "don't allow"
And that's how you check privacy settings!
Getting into the Sound Control Panel
There may be a time when you or your IT person will need to get into the sound control panel to set the headset as the default communication device and make the normal speakers the regular default device.
You would do this if you want to listen to Youtube, Spotify, or iTunes through your computer speakers while having your computer calls go through your headset. Here is how you would do it!
Right-click on the speaker icon in the bottom right corner of your screen and select "Sound settings"
Scroll down to where it says "more sound settings" and give it a click

This will bring up another window with 4 tabs at the top: Playback, Recording, Sounds, and Communication
In both playback and recording, you can disable/enable devices or set them up as default or default communication device
If something is set as default device and there are no other default devices, all sounds on computer will go through that device
If something is set as default communication device, that device will handle all sounds relating to communication, such as Teams, Zoom, RingCentral, etc.

There will be a default device in this case, which will handle all non-communication sounds
Simply right-click on the device you want to change and then pick the setting you want. Easy peasy!