When it comes to wireless headsets that you use around your office or while you work at home, the battery life isn't something you should ignore. Gone are the days of replacing AA batteries every couple of days (or hours) in electronic devices like wireless headsets. These days your battery should get you through your whole workday!
What makes a good headset battery?
A good headset will have a lithium-ion or lithium-polymer battery inside the microphone piece, which is the same chemical composition as cell phone and laptop batteries. These are designed to be charged and re-charged over and over again and will last you a couple of years.
These are superior to older style NiCad (Nickel-cadmium) rechargeable batteries, as they are lighter and can be stored at full charge for much longer without losing power.
With all that in mind, when purchasing a headset you want to use for an extended period of time, you want your battery to be able to go along for the ride with you.
A good wireless battery should be able to charge quickly, often within 2 hours, and stay charged for 6-8 hours, or even longer in some cases! That way you can work at home or at the office all day and not worry about having to switch to another phone or, perish the thought, pick up the handset.
Best wireless headset batteries for the office
Knowing what makes a good battery is all fine and good, but let's cut to the chase and point out some headsets that will live up to the requirements of your office, call center, or home office!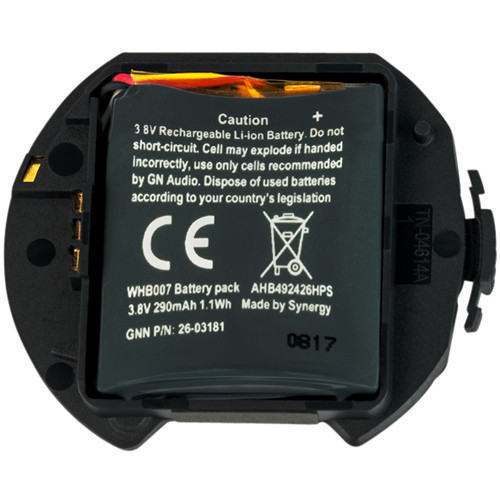 The Jabra Engage 75 wireless office headset is a great headset in terms of battery talk time. It can either be worn over the head or on the ear.
This particular Jabra headset has up to 13 hours of talk time.  If you work in a call center where you take call after call or perhaps work as a dispatcher with 10+ hour shifts, this will keep you on the phones your entire workday!
The battery can also be changed in this headset, but it does get a little tricky at times. If you follow the preceding link it will show you how to do it!
You may not need your headset battery to go into overtime with you, in which case you may want something else that has less expensive batteries that are easier to swap out.
This is a slick-looking wireless office headset that will connect to computers and desk phones.  It can even be switched from over-the-head to be worn on the ear, just like the Jabra above!
The OfficeRunner appears on this list because it has a very long battery life of up to 12 hours!  When in wideband, you get 8 hours of talk time on a single charge, but if you move the 5th dipswitch in the back of the cube into the down position, it puts the headset into narrowband, which bumps you up to 12 hours.
In addition to the longevity, this battery is also designed to be charged from 0 to 100 in just 1 hour. If it takes significantly longer, it generally means you need to get it replaced.
The warranty of this headset is 3 years, which means if your battery has the typical lifespan of 2.5 years, you can get one battery replacement for free under warranty.  Click here if you need help removing the battery!
If you are looking to buy in bulk for a large call center, you may want to consider a different headset, as these are on the pricey end.  If you need 100 of them, it may be worth it to check out some slightly less expensive models.
Leitner is available in models that connect to phone and computer, as well as models that also connect to cell phones via Bluetooth. 
With this office headset, you will have up to 8 hours of talk time, which isn't quite as long as the others on this list, but it should be more than enough to answer all your calls for the day.  And when you take your breaks and/or lunches, you can give it a refresher charge while relaxing elsewhere, which will stretch it out further!
Just as with the other headset batteries in this list, it will need to be swapped out after about 2-3 years of use, but this is where this headset shines.  There is a 5-year warranty on these guys, and this includes the battery. This means that once your battery can't get past 6 hours anymore, call in to get a new one. Easy as that!
Wrapping it up
If you're looking for a workhorse wireless headset with a battery that will fight alongside you for the entire workday, any of the above ones will get you to the finish line.
If you need more information, or perhaps are looking to give one a shot, give us a call at 1-800-HEADSETS (432-3738) or send us an email at hello@headsets.com!